I've been a little out of the loop for the past couple of weeks, first with a long weekend with our church youth group, and then another five days helping my dad after hip replacement surgery.
Although I have several projects yet to be shared (and about two dozen waiting for completion), I thought I'd show a little something I treated myself to recently…
May I introduce you to the Red Hen Tortation!
I have an extremely talented niece who recently started creating these one-of-a-kind creatures called "Tortations" and selling them though her etsy shop.
Some she creates out of her own head, like Seymour here…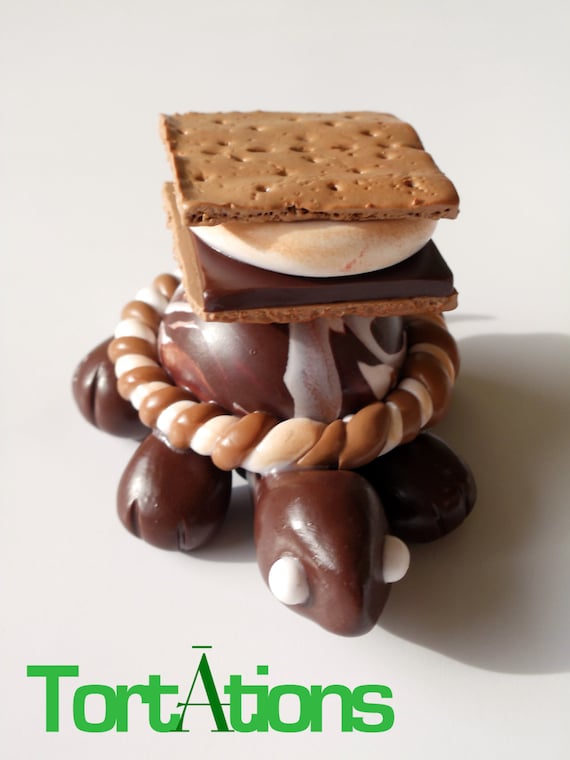 Name: Seymour
Gender: Male
Breed: S'mortation
Fun Facts: If you're anything like me, roasting a perfectly bronzed marshmallow takes an act of insufferable patience, and more often than not, I end up dunking my roasting stick into the flames to speed up the process. That's where Seymour comes in. When you place a marshmallow in Seymour's care, you know he's going to bring it back to you crisped to perfection. By placing the marshmallow on his back and turning in slow, deliberate circles, he'll make sure one side is neither too black nor too pale for your discerning taste.
Or Chamomile…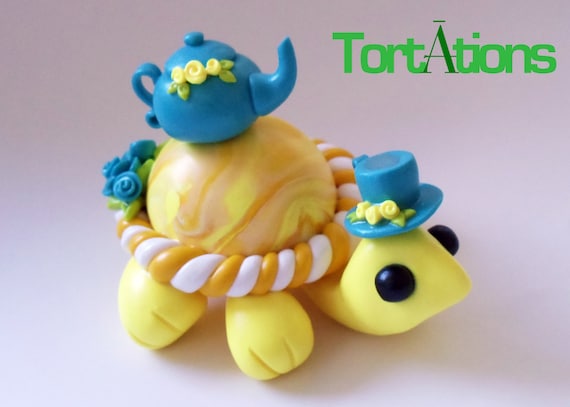 Name: Chamomile
Gender: Female
Breed: Teatation
Fun Facts: There's nothing Chamomile the Tortation likes more than an old-fashioned tea party. If and when you receive an invitation, do remember to bring all of your dolls, your embroidered handkerchief, and your white lace gloves. Chamomile likes to do things properly.
Others are created based on famous literary characters like Harry Potter:
Name: Harry Potter
Gender: Male
Breed: The Tortation Who Lived
Fun Facts: Much like his literary counterpart, Harry Potter the Tortation is the best Seeker the Gryiffindor Quidditch team has ever seen. Although the broomsticks are mostly for show (Tortations are afraid of heights), Harry uses his to advantage when a rival Seeker gets between him and the Snitch. A good whack upside the head is usually enough to make the other player forget where he is, which is good for Harry, who was never very good at memory charms to begin with.
**Note: I had to include the descriptions she writes for a few of her creations…they are works of art in themselves!
Or if you are a video game fan, you might recognize Link (he's sold, but there's also a Bowser available):
Her genius further comes to light when she's presented with a request to make a "graduation Tortation," and she comes up with one dressed in appropriate school colors and even a logo!
She's even made an LDS missionary Tortation, complete with a bike helmet, which really tickles my funny bone!
A couple of family members have received their own custom Torts, like my dad, the hunter:
And my sister, who is feeding an unhealthy McCoy obsession (sorry, Rachel…and yes, someday she wants Kirk and Spock Torts as well).
But enough about everyone else…let's get back to me.
I asked my niece what she thought a Red Hen Tortation would look like…she said, "Something with a paint brush and a hammer!" I added to that the request that she include something to do with cooking and knitting, and this is what I received in the mail about 10 days later…
Isn't she the cutest thing??
Every little detail is amazing. A chef's hat. An apron. A ball of yarn and knitting needles, all made out of clay!
A shell that looks like feathers! And don't forget the big yellow feet, just like every cartoon chicken you've ever seen.
Oh, but the hammer and the paintbrush. Too cute for words!
I hope you enjoyed meeting my newest treasure!
If you think you or someone special in your life would appreciate their own custom Tortation, you can find out more on Etsy and on Facebook.